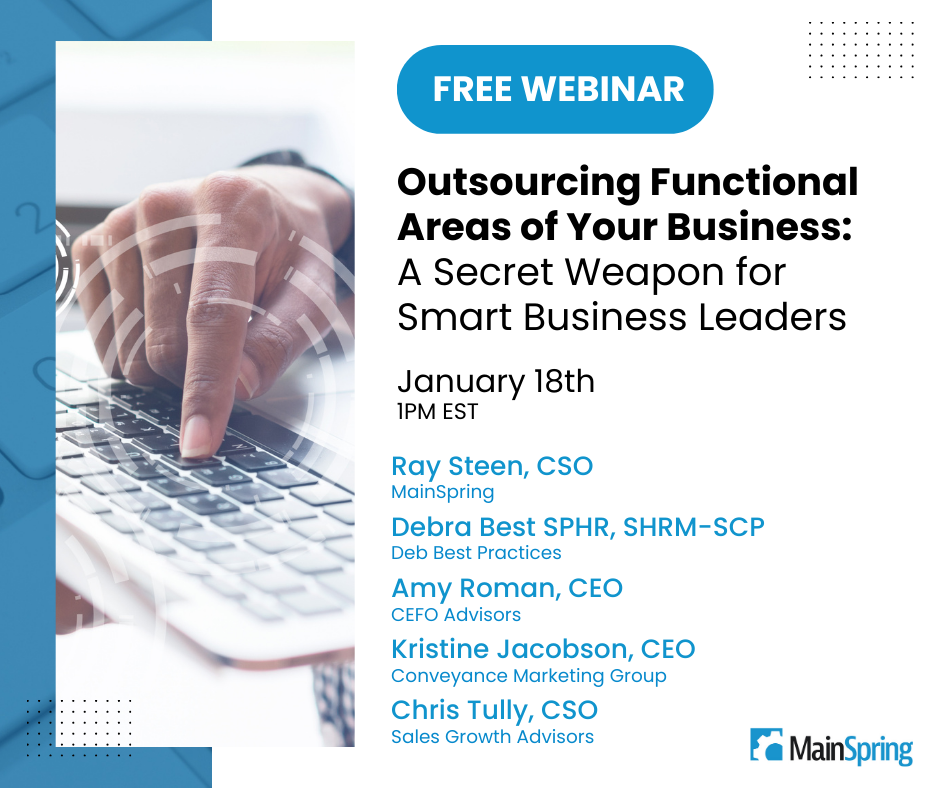 In January you'll learn:
When outsourcing IT, HR, finance, sales, and marketing makes sense

How outsourcing helps you hire a team with the skills you need

The budget advantages outsourcing provides

What to look for when choosing the best partner

How outsourcing helps you make strategic moves, especially during uncertain financial times
On Demand Webinars and Podcasts
vCIO Perspectives Webinar
Jumpstart Your Annual IT Budgeting & Planning
It is time to plan and budget for your 2023 IT requirements; successful businesses will focus their spending on IT security, modernization, and automation to make their businesses more efficient and growth-minded.
What We Covered:
How to scope your future IT requirements
How to control and optimize your current IT investments
Uncover IT costs you haven't considered
How to plan and budget for an effective IT ecosystem
PLUS … walk away with an annual IT budget worksheet
vCIO Perspectives Webinar
Combat Common Cybersecurity Threats: Learn More About CIS Controls
Cybersecurity Consultant and Founder of Craina Consulting Group, Thomas El-Khatib joins us to discuss the uptick in ransomware attacks, CIS controls and how to prevent common cyberattacks.
What We Covered:
How to prevent 90% of common cyberattacks by implementing the first 6 Controls

How to proactively improve your cyber readiness and resilience with the right IT partner

How to measure your preparedness for a cyber incident

How to simplify your NIST audit
vCIO Perspectives Webinar
Doing More with Less, Leveraging Automation to Streamline Business Processes
The pace of technology evolution is increasing exponentially, and businesses require more application development than most IT teams can deliver or support.
What We Covered:
How to translate innovation into business value at speed

How to develop solutions that adapt to the rapid progress of today's world

How to build digital assets with the same resources while reducing maintenance costs

How to quickly enhance existing solutions as new requirements occur
vCIO Perspectives Webinar
Automated Security Awareness Training
Cybersecurity training that is simple, repeatable, and measurable is a basic business need for organizations to facilitate risk management.
What We Covered:
What modern cybersecurity awareness training includes
Why end users are the biggest security risk to organizations
How to successfully implement a cybersecurity awareness training program
The benefits of continued training, practical assessments and cybersecurity education
vCIO Perspectives Webinar
How Technology Has Impacted Candidate Hiring and Employee Retention
How HR and IT work together to streamline and optimize employee recruitment, hiring, satisfaction, and retention.
What We Covered:
Smart and efficient recruiting, hiring, and retention
How to streamline new employee onboarding
How HRIS is a partnership between HR and IT
How to use IT to project hiring needs and prepare for growth
vCIO Perspectives Webinar
Trends, Tips and Trials of Managing your IT
Understand the benefits of having a virtual CIO who can manage both the strategic technical direction of your organization while also resolving chronic technical difficulties your staff is experiencing.
What We Covered:
Multifactor Authentication (MFA) what it is and how to implement it within your organization

Common IT problems you might be experiencing in your own organization

Simple-to-creative solutions to solve your most time-consuming IT issues
No video selected
Select a video type in the sidebar.
No video selected
Select a video type in the sidebar.
PODCAST:
Brilliance Security Magazine
How managed security service providers can help protect against ransomware
Ray Steen joins host Steve Bowcut in a discussion on what businesses can do to protect against a ransomware attack, what should they do if they are victimized, and how MSSPs can assist their clients before and after an attack.